Scale Management (RSM) Software
DS-781 Price Computing Scale
Your key to fast, accurate, and user-friendly weighing transactions.
Key Features:
Compact body
High contrast LCD display
Up to 99 PLUs programmable
Equipped with 15 preset keys
SM-5100
Dual capacity service scale printer. SM-5100 is a continuation of the series SM-100 with a more modern design. SM-5100 is equipped with cassette printing mechanism with long-life thermal head, high contrast backlit LCD displays, waterproof membrane keyboard and casing made of a material that allows an easy peel off labels. Scales are dedicated to the outlets of small and medium traffic (ex. deli, supermarket). Scale can print all data relating to the goods, such as: name, weight, price per kilo, amount due, barcode, date of production, sales and fitness for consumption, information concerning the identification of the origin of the product, advertising slogans, ingredients, company logo and also drawings, frames, signs of veterinary inspection, etc.
Key Features:
Default memory 2MB,
Label formats – 16 standard, 99 editable,
Cassette printing mechanism with long-life thermal head,
Quick access keys (32-SM-5100B; 56-SM-5100P and SM-5100EV; 72/120-SM-5100BS),
Prepacking (automatic weighing) and printing summarizing label,
Ethernet, RS-232 interfaces or wireless RF IEEE 802.11b (optional).
SM-5300
SM-5300 is a PC based weigh-labeller offering linerless function with the auto-cutter feature. It comes with an interactive 7-inch colour customer display that can present advertisements to drive sales and enhance customer service. It can also connect to InfoTag and e.Labels electronic tag for seamless price updates with minimum human interference.
Key Features:
Linerless label print with built-in auto-cutter
Watermark printing
Speed ID
Scale management software @LABEL
InfoTag Electronic Shelf Label
Integrated Queue and Collection System
Interactive colour operator and customer display
---
SM-5500G
SM-5500G, the advanced PC based system scale printer that provides multiple retail solutions at your fingertips. Boosts operations revenue, enhance operations with integrated queue and collection system through various innovative functions of SM-5500G. Experience true retail solutions that DIGI's PC scales offers.
• Linerless print with built-in auto-cutter
• Watermark printing
• Speed ID
• Scale management Software @LABEL
• InfoTag and e.Label electronic signage
• Integrated queue and collection system
• Waste management
• Interactive screen display
SM-5500 BCON
SM-5500 series are multimedia scales based on PC technology. SM-5500 is equipped with operator display with touch screen. In addition to displaying data relating to the goods to be weighed are able to display such items as: the product, the manufacturer's data, information about current promotions, offers tied etc. It is possible to display messages to the operator, for example, changing rolls or head cleaning instructions, etc. . Scale got waterproof keyboard, easy removal of keyboard enables fast and thorough cleaning which allows to increase the standards of hygiene. Models cooperate with the Electronic labels E-Label Jr DIGI and InfoCard.
Key features:
Capacity 30lbs
Operator display with touch screen,
Customer display is available in several colors,
Waterproof keyboard,
Stainless steal casing,
External Load cell for Pre Package weighing
DPS-5600
DPS-5600 is a high-performance prepack scale printer. Reduces work load with easy and simplified operation, and conserves label consumption to achieve lower cost and a smaller environmental footprint.
High productivity
Reduces work load by aggregating two labels into one. Larger color touch screen provides easy operation. Label content can be easily checked on the display at any time, helping to prevent labeling errors.
Economical & Ecological
A linerless auto-label-sizing function compresses wasteful margin areas, helping with conservation of label usage. Use of linerless labels minimizes waste disposal requirements, providing environmental consideration during daily work
Effective presentation by various labels
Flexible label design without restriction to a single label size enables you to highlight not only common product information, but also product characteristics and freshness. Printing information such as recipe tips for consumers enhances promotional value. Shelf labels help improve productivity, while wrap-around labels deliver an impression of quality.
---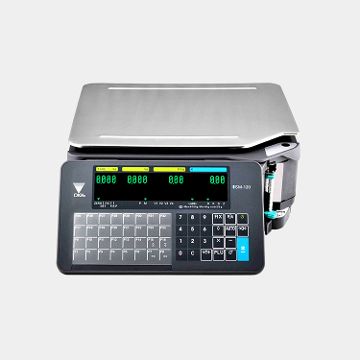 SM 120LL
Linerless Label with Auto Cutter
Flexible length of label
Label saving is 21~26% coparing to liner label
Better waterproof performance
Life span of thermal head improved
Label and receipt printing in one printer
Cloud service